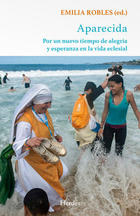 Year of publication:
2014
Binding:
Rústica con solapas
If we understand what the pope thinks Francisco and what is your vision for the future Church, we must know the document of Aparecida, which he wrote for the Latin Church in 2007.
The Episcopal Council of Latin American and Caribbean (CELAM), which represents the Catholic bishops of the
region, a conference held in 2007 in Aparecida, a town in the interior of São Paulo. in that
conference, Cardinal Jorge Mario Bergoglio then played an important role as rapporteur. In 2013,
Pope Francisco returned to visit the Shrine of Aparecida and the act stood there and took place as a key reference for the whole Church.
This collective work under the coordination of Emilia Robles, gives voice to some of those witnesses of hope. The aim is to reveal certain threads that bind the Vatican II, the process of the Conference of Aparecida, the new pontificate Francisco a...read more