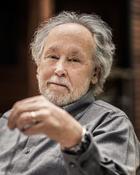 Port Chester (USA), 1945
American writer and essayist whose work is known for its humanitarian and environmental concerns. He won the National Book Award for Arctic Dreams (1986) and his book Of Wolves and Men (1978) was also a finalist for the same award. Lopez grew up in Southern California and New York. He attended the University of Notre Dame, earning undergraduate and graduate degrees there in 1966 and 1968. Landscape photographer, his essays, short stories, reviews, and opinion pieces began to appear in 1966. He has traveled to nearly 80 countries and in 2002 He was elected to the Explorers' Club, and was described as "the nation's foremost writer on nature" by the San Francisco Chronicle. His writings are frequently compared to Thoreau's, as he brings a profound erudition to the text by immersing himself in its environment, skillfully integrating its environmental and humanitarian concerns.
In his essays, he often examines the relationship between human culture and the physical landscape. In his novels, he frequently addresses issues of intimacy, ethics, and identity. As a landscape photographer, Barry Lopez continues to maintain close contact with a diverse community of artists.