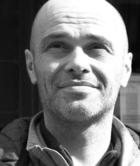 Gérard Dubois (France, 1896) is one of the most renowned European illustrators today, he is a French painter, illustrator and artist.
After completing his graphic design studies at L.E.I Rue Madame and at the Superior School of Design, in 1989 he moved to Montreal, where he established his residence. His illustrations have appeared in countless magazines, both in the USA. USA as in Europe, including a weekly column in the New York Times.
So far, he has illustrated more than twenty books, for both children and adults, and has just finished a set of posters for the Lyon National Theater and a series of postage stamps. His work has appeared in publications such as Time, Johns Hopkins magazine, The Wall Street Journal, Rolling Stone, St. Martin's Press and The New York Times.