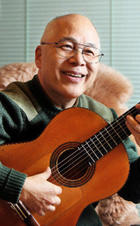 Ōsaka Gō (Tokyo, 1943) is one of Japan's best known mystery writers and historical novels.
Ōsaka, whose real name is Naka Hiromasa, is the son of the recently deceased artist Naka Kazuya (1911-2015), known particularly for his illustrations for historical novels. Although he studied law at the University of Chuo, his professional career developed in the world of advertising, before devoting himself full time to writing.
A huge fan of flamenco and classical guitar, who learned to play during his youth, Ōsaka is a great lover of Spain, a country he has visited repeatedly and where he has located many of his novels. His debut was precisely the story "Ansatsusha Granada ni shisu" ("The murderer dies in Granada", All Yomimono, September 1980), set in the Iberian Peninsula during the Civil War. Among his many novels set in Spain include Cádiz no akai hoshi (The red star of Cádiz, Kōdansha, 1986), which earned him the Naoki Prize, the Prize of the Japanese Association of Writers of Mystery and the Prize of the Japanese Association of Adventure novels (Nihon bōken shōsetsu kyōkai).
Extremely prolific in all genres of mystery literature, in addition to historical fiction, he has published more than sixty novels, among loose works and a dozen series still open. Among his works of police court one of the most popular is Mozu no sakebu yoru (The shrike sings at night, Shūeisha, 1986), part of a series of seven novels, which has had adaptations to film, television and manga. As for his historical literature Heizō gari (Heizō's Hunt, Bungei shunjū, 2014), the second volume of the series that began with Heizō no kubi (Heizō's face, Bungei shunjū, 2012), was recently awarded the 49th edition of the Yoshikawa Eiji Award.
In 2014, his contribution to the genre was recognized with the Great Prize of Literature of Mystery of Japan (Nihon mystery bungaku taishō) for the whole of his career.