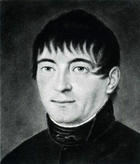 Kleist was born into the von Kleist family in Frankfurt an der Oder in the Margraviate of Brandenburg. After a scanty education, he entered the Prussian Army in 1792, served in the Rhine campaign of 1796, and retired from the service in 1799 with the rank of lieutenant. He studied law and philosophy at the Viadrina University and in 1800 received a subordinate post in the Ministry of Finance at Berlin.
In the following year, Kleist's roving, restless spirit got the better of him, and procuring a lengthened leave of absence he visited Paris and then settled in Switzerland. There he found congenial friends in Heinrich Zschokke and Ludwig Wieland (de) (1777–1819), son of the poet Christoph Martin Wieland; and to them he read his first drama, a gloomy tragedy, The Schroffenstein Family (de) (1803).
In the autumn of 1802, Kleist returned to Germany; he visited Goethe, Schiller, and Wieland in Weimar, stayed for a while in Leipzig and Dresden, again proceeded to Paris, and returning in 1804 to his post in Berlin was transferred to the Domänenkammer (department for the administration of crown lands) at Königsberg. On a journey to Dresden in 1807, Kleist was arrested by the French as a spy; he remained a close prisoner of France in the Fort de Joux. On regaining his liberty, he proceeded to Dresden, where, in conjunction with Adam Heinrich Müller (1779–1829), he published the journal Phöbus in 1808.
In 1809 Kleist went to Prague, and ultimately settled in Berlin, where he edited (1810/1811) the Berliner Abendblätter (de). Captivated by the intellectual and musical accomplishments of the terminally ill Henriette Vogel, Kleist, who was himself more disheartened and embittered than ever, agreed to do her bidding and die with her, carrying out this resolution by first shooting Vogel and then himself on the shore of the Kleiner Wannsee (Little Wannsee) near Potsdam, on 21 November 1811.[1]
According to the Encyclopædia Britannica Eleventh Edition, "Kleist's whole life was filled by a restless striving after ideal and illusory happiness, and this is largely reflected in his work. He was by far the most important North German dramatist of the Romantic movement, and no other of the Romanticists approaches him in the energy with which he expresses patriotic indignation."