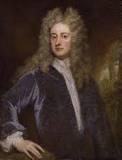 Joseph Addison (Milston, Wiltshire, Great Britain, May 1, 1672-Holland House, Kensington, June 17, 1719) was an English writer and politician.
Son of the dean of the cathedral of Lichfield, already in 1694 he published a book on the life of English poets and a translation of the Georgics of Virgil. In 1699 he began to prepare for the diplomatic service, for which he traveled throughout Europe. He wrote travel diaries, for example, about Italy and also about the English countryside, as well as some plays, such as Cato (1713) and El tamborilero (1715).
With Richard Steele he founded the magazine The Spectator in 1711, where he published his work The Pleasures of the Imagination in 1712. He also wrote for the publication The Tatler. Although he stood out as an essayist, he participated in the English Parliament as a Whig representative, and between 1717 and 1718 he was Secretary of State.