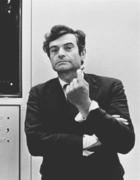 Marcel Broodthaers (January 28, 1924 - January 28, 1976) was a Belgian poet, filmmaker, and artist, belonging to the conceptual art stream and influenced by literature and Surrealism.
Broodthaers was born in Brussels. In 1945 he joined the Groupe Surréaliste-revolutionnaire and alternated jobs in journalism, film and poetry. After 20 years of difficulties trying to survive as a poet, in late 1963 he decided to become a plastic artist. He began with a symbolic act, sinking fifty unsold copies of his poetry book Pense-Bête in plaster, creating his first artistic object. Shortly thereafter, in 1964, he wrote a famous foreword to the catalog for his first exhibition.
Since 1969 Broodthaers lived between Düsseldorf, Berlin and London. He died of liver disease in Cologne (Germany) on his 52nd birthday, and is buried in the Ixelles Cemetery, under a tombstone that he himself designed.