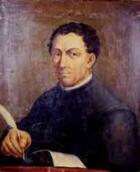 Gian Francesco Poggio Bracciolini (Terranuova, near Arezzo, February 11, 1380 – Florence, October 30, 1459) was an Italian humanist.
Poggio Bracciolini was the son of the apothecary Guccio Bracciolini and Iacoba Frutti. He learned to write calligraphically and very quickly, so that with his work as a clerk he was able to pay for his notary studies in Florence. There he caught the attention of the Florentine chancellor Coluccio Salutati, who gave him a letter of recommendation for the Roman curia. He arrived in Rome at the end of 1403 and entered as a simple clerk in a papal administration that then numbered a hundred of them. The following year he was already one of the seven apostolic secretaries of the curia of Pope Boniface IX.
He held the position of Chancellor of Florence in June 1453 thanks to the protection of the Medici and was a Latinist convinced that Latin was a living language, for which he was frequently criticized by Ciceronians such as Leonardo Bruni or Lorenzo Valla (the latter wrote an Antidotus in Poggium). The dispute between both sides was so fierce that Archbishop Niccolò Perotti, grammarian and poet laureate, sent an assassin to Florence in 1453 to kill him, which, fortunately, he did not succeed. The Signoria complained and the archbishop was compelled by his superior, Cardinal Basilio Besarión, to write an apology to Poggio in penance.