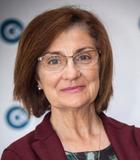 Teresa Olmos is a psychologist, psychoanalyst with a didactic function and professor at the Institute of Psychoanalysis of the Madrid Psychoanalytic Association (APM). In December 2019, her presidency of said Association ended, which has allowed her to have a broad perspective of psychoanalytic institutions today, an experience that she brings us to this interview.
She is the author, along with Carlos A. Paz and María L. Pelento, of the books Structures and border states in children, adolescents and adults, volumes I, II and III. She has published numerous works in the APM Magazine on adolescence and on psychoanalytic theory and clinic.
In 1992, together with Carlos Paz, she received the first Research Prize of the Psychoanalysis Annual Book for her research work Adolescence and border pathology: characteristic of the relevant psychoanalytic process, published in The International Journal of Psychoanalysis.
She has recently edited and prefaced the book The guests of the I. Identifications and de-identification in the psychoanalytic clinic, published by the Biblioteca Nueva publishing house.