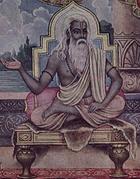 Viasa is a legendary writer of Hindu antiquity, whose real name is Krishna-Dwaipayana.
He is the fourth member of the rishi parampara (succession of gurus and disciples) of the Advaita school, in which Shankará Acharia (788-820) is the main figure.
It is also called Veda Vyasa ('divider of the [Rig] Veda') to explain why more than 90% of the text of both Sama-veda and Iáyur-veda are copied from the Rig-veda: Viasa would have 'divided' or reorganized the Rig-veda (which claims to have been written by 10 religious poets, whom it mentions by name) in those other two texts, to facilitate its understanding or to facilitate the remembrance of its mantras.