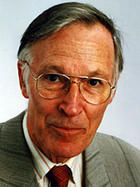 Walter Burkert (born 2 February 1931 in Neuendettelsau) is a German scholar of Greek mythology and cult.
An emeritus professor of classics at the University of Zurich, Switzerland, he also has taught in the United Kingdom and the United States. He has influenced generations of students of religion since the 1960s, combining in the modern way the findings of archaeology and epigraphy with the work of poets, historians, and philosophers.
He has published books on the balance between lore and science among the followers of Pythagoras, and more extensively on ritual and archaic cult survival, on the ritual killing at the heart of religion, on mystery religions, and on the reception in the Hellenic world of Near Eastern and Persian culture, which sets Greek religion in its wider Aegean and Near Eastern context.