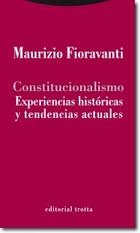 Year of publication:
2014
Binding:
Rústica con solapas
Constitutionalism-treated as a current of thought aimed at achieving specific policy objectives which consist in imitation of the public authorities and the consolidation of areas of autonomy guaranteed by rules-almost never has a single defensive logic. From the beginning also seeks to build a common power, against which, however, claimed limits and guarantees.
This complexity can be seen in the origins of constitutionalism but also in the different models that occur in liberal Europe, and even in the democratic process in the subsequent supranational integration. It is something that is far from the simple idea of Hobbesian stamp of sovereignty that affirmed or denied without compromises.
In recent years, questions about history of constitutionalism are increasingly intertwined with today's problems, the difficulties and the current prospects of constitutionalism. T...read more