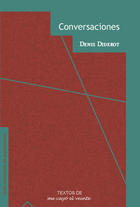 "Conversations " Diderot presented in this volume correspond to two " Entretiens " variants of the subgenus " Socratic dialogue " , which gives voice to both those who disagree with him as himself : Entretien d'un philosophe avec Madame Marechal of **** and Entretien d'un pere avec ses enfants, written by the French encyclopedist in 1774 , the first, and in 1771 , the second .
Both were written after his stay in prison where he fell for exercising the fierce criticism the French Establishment. However , his unswerving vocation of freedom did not flinch before the powers , whatever they were , and carried to its logical conclusion their critical role .
While the conversation with Mrs. philosopher **** Marschallin of other issues have become in our language , conversation of a father with his children we have located no other . In both cases it certainly is a new translation.