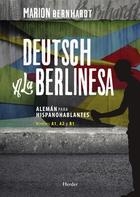 Year of publication:
2016
Encuadernacion:
Rústica con solapas
Deutsch to Berlin is the first German grammar narrative. Explains the German language in an entertaining and informative way, based on readings in German, explanations in Spanish and relying on the comparison between the two languages.
Through the story of Pepe, who does not know a word of German, is gradually learn the basic tools to communicate in this language. Each chapter begins with a story, which grammar explanations, vocabulary and exercises to practice what learned are extracted. The narrative also provides the key to better know the city of Berlin, who lives today a multicultural renaissance, and various anecdotes about the German language and culture.
This method is ideal for self-study, but can also be used as teaching support. It comprises the A1, A2 and B1 CEFR levels.