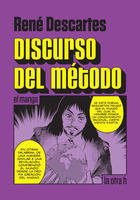 Year of publication:
2015
"I think therefore I am!"
At the time of major changes was the transition from the Middle Ages to the modern era, Descartes devoted all their efforts to find a certain knowledge, a way for any person could, through the use of reason to find the truth. With his method Descartes gave the world the foundations of modern knowledge. We offer an introduction to his philosophy now in manga format!
"Reason is the best property distributed among men; none claims more of it, because all think they have enough."