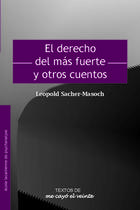 The writer Leopold Sacher Masoch - published novels , plays , history books , and a lot of stories. The peculiarity of his erotic linked to pain and humiliation , is the main reason why he is remembered today. Venus in Furs is the most widespread work.
Medical science of the nineteenth century used the name of Sacher-Masoch to describe a sexual pathology: masochism . However , the terms masochism and masochistic transcended the boundaries of psychiatry to take his place in the vulgar speech.
The stories in this volume are a sample of the erotic literature of Sacher-Masoch . They campea the figure of a proud, strong, brave, daring woman, educated to act alongside the man , born to dominate, vehement in its desires. She is braided with men in scenes of love, hate and revenge , in an antagonism whose primary purpose is to cause a certain look in the reader.