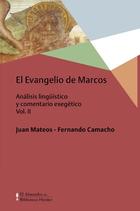 Year of publication:
2019
Binding:
Rústica con solapas
This commentary in three volumes of the Gospel of Mark constitutes the most extensive, profound and novel commentary that scientific exegesis has published on this Gospel in Spanish.
On the basis of the evangelist's own text, the authors apply to the interpretation of each passage the most modern methods and techniques on the analysis of texts and the study of narration. The exegetical work always takes into account the many implicit allusions to the Old Estate since, for the authors, they constitute the best interpretative key to approach the deep meaning of the text.
This work is aimed at all kinds of readers. The scholar, connoisseur of the Greek language, will find abundant justifications for translation and interpretation in the philological notes of almost three hundred authors. The ordinary reader may dispense with this scientific apparatus and directly read the c...read more