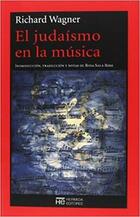 Year of publication:
2013
Dear reader, you are holding an infamous text in your hands. Infamous aesthetically, for its sophisticated and complex prose that this translation has endeavored to render into Spanish in an intelligible way. But above all, infamous for its content.
It is the kind of text one wishes had never seen the light of day, a wish shared by almost all fans of Wagner and his music.
(…) But if the text is infamous, one wonders why bother to translate it into Spanish and edit it once again, two hundred years after the birth of its author.
Wouldn't it be better to focus on the beauty that Wagner brought to the world rather than focus on one of its darkest spots?
To this I would reply that Judaism in Music was too important a text to let him sleep half-forgotten, known to a few specialists and often only hearsay. Judaism in music, after all, is a classic: a classic of Eur...read more