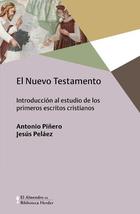 Year of publication:
2019
Encuadernacion:
Rústica con solapas
This book deals with the study and examination of the New Testament in a clear way, with the intention of addressing not only specialists, but those readers who are interested in deepening their knowledge about the various aspects of these texts.
The New Testament is one of the most influential texts of Western culture and spirituality. It consists of twenty-seven writings that Christianity considers "inspired" and have been the starting point of numerous theological interpretations. The New Testament philology is the science that seeks to critically and rationally study these texts, considered both as literary products and as historical testimonies.
Antonio Piñero and Jesús Peláez approach the study and examination of the New Testament, deepening in various aspects such as the history of its interpretation, the New Testament canon, the textual criticism and history of t...read more