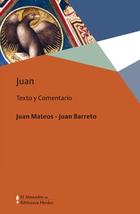 Year of publication:
2020
Binding:
Rustic with flaps
We present in this volume a concise commentary on the Gospel of John, so that the reader may have an effective instrument in the continuous reading of the Fourth Gospel.
The Gospel of John gathers the testimony of the beloved Disciple and his community about his own experience of following Jesus of Nazareth. The language of the work, which gathers the conceptual and symbolic world of the Old Testament and its influence on the later cultural environment, is articulated in two main theological axes, that of the new "creation", and that of the "exodus" of the Messiah.
Next to the translation of the text, a comment is proposed that proposes, section by section, its theological keys. Although the gospel contains many valid elements for the understanding of Jesus in the historical, geographical and cultural context of his time, the work is not a biography in the current sense ...read more