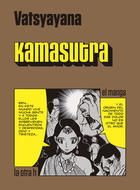 Year of publication:
2016
The Kamasutra ("the aphorisms about love") is an ancient Hindu text about love, sexual desire and relationships. Its author Vatsyayana (c. III-V centuries AD) wrote with the aim to summarize, in the form of a brief accessible to all manual, the ancient sacred teachings of kamashastra ("science of love").
Many think that the Kama Sutra is a compendium of sexual positions, but this issue occupies only a chapter of the treaty. As shown in this manga, faithful to the original version, the Kamasutra is a real guide to lead a virtuous, enjoyable and fulfilling life, love, relationships and nature itself.
Love is never a beautiful thing and transparent. But people can not live without love. Therefore, our ancestors acquired knowledge about love and strove to go the right way. This right path that leads us is the "Kamasutra".