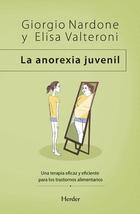 Year of publication:
2018
Binding:
Rústica con solapas
Giorgio Nerdone y Elisa Valteroni
This book presents effective therapeutic approaches that distinguish different types of eating disorders and that recognize the specific characteristics of this difficult pathology, juvenile anorexia, which requires immediate, early and decisive intervention.
Anorexia is scary: those who suffer from it, or may suffer from it, perceive pathology as a virtue and not as a disorder, coming to "love" this dangerous disease. In addition, for doctors and therapists this pathology is especially difficult to treat because not all anorexic patients present the same symptoms, leading to therapies that are often inadequate, if not counterproductive.
However, a ray of light is seen in the midst of the darkness of the situation: there are therapeutic approaches that guarantee high percentages of healing. Disclosing this type of therapy is the g...read more