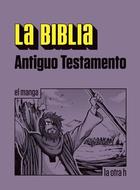 Year of publication:
2017
There are many versions of the Bible, erudite, simplified, children's, didactic ... there have also been movies, comic versions ... Now this manga version will transport us through the main Biblical episodes in a pleasant and attractive for all.
Few works have contributed to model Western thinking as much as the Bible. Throughout the 46 books that compose his first part, the Old Testament, we witnessed the development of the complex relationship between the people of Israel and their God. This series of episodes of legendary character, including the expulsion of Paradise, the construction of the Tower of Babel or the destruction of Sodom and Gomorrah, has become, over time, an indispensable part of the cultural heritage of the West.
And God created man in his own image: in the image of God he created him; Male and female created them. God blessed them, saying: "Be fruitf...read more