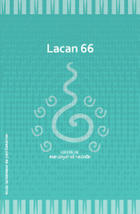 Year of publication:
2018
Encuadernacion:
Tapa Blanda
From their appearance, the Writings of Jacques Lacan seemed destined to be an inescapable reference in the field of psychoanalysis; but how were they read at the time of publication? Who were your first readers and commentators? Not surprisingly, just as they had with their doctoral thesis, Lacan's Writings were first received outside the "psi" domain.
Lacan 66 offers a selection of the first comments directed at Lacan's work from the press and magazines of the time, thus revealing a succinct overview of the book's critical reception in the cultural milieu - dominated by the structuralist current - in the one that originally appeared. Each of the articles is published for the first time in Spanish.