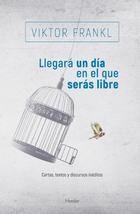 Year of publication:
2019
Encuadernacion:
Rústica con solapas
A work to bring value and confidence to those to whom the reading of The Man in Search of Meaning already brought knowledge and consolation
Viktor Frankl left us a moving existential lesson with his testimonial story of survival in the concentration camps. However, what happened to him the following months after his release remained hidden from most of his readers. Over the years, Frankl gave, for his examination and publication, personal notes and letters from his private archive with the conviction that his experiences during the homecoming stage could bring value and confidence to those who seek consolation .
There will come a day when you will be free is the fruit of that work. The present work is a selection of Frankl's texts and correspondence upon returning to Vienna after he ended his life as a prisoner in four concentration camps. This book, complement and conti...read more