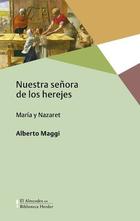 Year of publication:
2020
Binding:
Rústica con solapas
A work essential to understanding the figure of Mary in the context of her time. A different book about Mary and the situation of marginalization of women in Jesus' time.
These pages tell the story seen from the underside. Started with the title. Today, for Christians, Mary, Jesus, the disciples, the martyrs are noble and glorious people. But for those who condemned them at the time they were only subversive and heretic. In this way, the title Our Lady of Heretics is simply the other side of the Queen of Martyrs invocation.
The main originality of this book therefore lies in telling the story from somewhere else. Mary, Joseph and Jesus are not seen with the eyes of the believer who now knows, but of the disbeliever, who did not know then. Talk and slander, which now offend us, were then said and disseminated and, in a sense, even understandable. It should not be ruled ou...read more