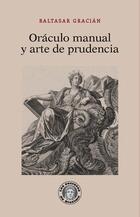 Year of publication:
2020
Binding:
Rústica con solapas
The 300 recommendations that make up the manual oracle and art of prudence are directed, as always happens with truly universal works, all and nobody.
His concise, synthetic style, but from many sheets, he is perfectly consistent with the many passions, joys and torments that populate the soul of men. Gracián never sums up: He always reaches the bottom of our character.
The Oracle has interested philosophers of very different guidelines and latitudes, although many have professed their faith with a certain secrecy. Maybe this is due to your pages are actually a self-help manual, but of the good ones.