Un relato épico de identidad, amor, muerte y supervivencia . La historia de una saga familiar a lo largo del siglo XX.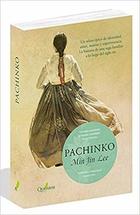 Year of publication:
2018
Yeong-do, Korea, 1911
In a small fishing village on the shore of the East Sea, a crippled man marries a fifteen-year-old girl. The couple has a daughter, their beloved Sunja.
When you feel pregnant with a married man, the family faces ruin. But then Isak, a young Christian priest, offers him an opportunity for salvation: a new life in Japan as his wife.
The life of Sunja will not be easier than the beginning of its history.
Through eight decades and four generations, Pachinko is an epic tale of family, identity, love, death and survival.
Finalist novel at the National Book Awards (USA)
Top 10 best books of 2017 for the New York Times
Top 10 books of the year for USA Today
Top 10 of Amazon best books of 2017 Literature and fiction