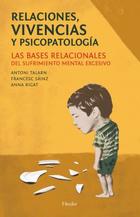 Year of publication:
2014
Binding:
Rústica con solapas
Waterfront scientific reductionism, the authors advocate the importance of the link with others, what made ​​us human-beings to understand the excessive mental suffering.
In mental health prevails at present a very simple approach: all organic and discomfort is a genetic disease, all lies in the functioning of the brain and the whole machine carries a disease and a drug treatment objective diagnosis. We study and mental disorders are treated without regard neither the mind nor the society.
This paper emphasizes the importance of the links to better understand why some people suffer too much and do too also suffer their children, so that compromise your mental health. We can not prevent human suffering, but try to make life as good as possible and that our children grow up in the conditions necessary to enjoy it.