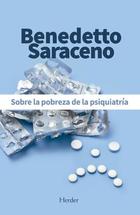 Year of publication:
2020
Binding:
Rústica con solapas
The ambition of this book is not only to formulate a critique of contemporary psychiatry, but also to point out possible ways out of the alley in which she is trapped.
Benedetto Saraceno has compiled and updated ten essays written over the years, which share the same deep conviction that psychiatry is a very fragile epistemological construct and has an opaque and ambiguous moral dimension. In this sense, this specialty seems to be increasingly a prisoner of false dilemmas and, at the same time, there is an impoverishment of reflection and cultural debate.
These texts, however, also point to possible paths by which it can overcome the impasse created by one's theoretical weakness. Dealing with mental illness means breaking the pattern of health/disease and hegemony of the biomedical model and dealing with suffering. Therefore, it is necessary to start over from listening ...read more