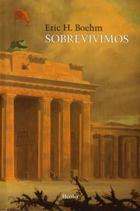 Year of publication:
2011
Thousands of German Jews and "Aryans" opposed to Hitler led illegal lives under the Nazi terror and survived the relentless pursuit of the Gestapo, concentration camps and bombing. Survived in different ways: some as ordinary citizens taking part in working life, others with false passports, others hidden in basements, living precariously in all the dark corners of a strict police state surveillance. In fourteen autobiographical testimonies, the author Eric Boehm provides a sampling of these heroic figures. We survived, a historical document in itself, opens a window to the past that that period was the Second World War. _x000D_
_x000D_
Reappearing now printed more than fifty years after its original publication, survived remains as relevant and necessary as ever an honest testimony of the strength of the human spirit to triumph over_x000D_
adversity.