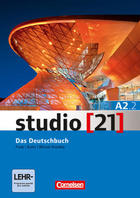 Year of publication:
2015
New edition of studio learning method d, with design and updated content, suitable for adults without prior knowledge of German.
With studio [21] Volume 2 A2 A2 level the series is completed. It contains 6 chapters include exercises to exercise all skills, including visual and auditory comprehension, which serve as preparation for performing a final task. Automation also includes exercises and videos on each unit.