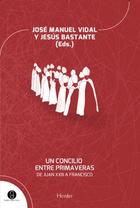 Year of publication:
2013
Binding:
Rústica con solapas
When John XXIII announced his decision to convene an ecumenical council , some cardinals asked for the reason, given the hustle and risk that entailed for the Church. They say the Pope rose from his chair, walked to a nearby window , opened it wide , and as the strong wind outside penetrated the room , said, " To fit new air in the Church."
If the Good Pope opened the windows of the institution, Francisco is opening its doors wide with a sheet of clear route : realizing the spirit of Vatican II , ie , achieve responsibility in a humble church , servant , simple and Samaritan .
This collective work , compiled by José Manuel Vidal and Jesus enough , runs the "roadmap conciliar " pope Francisco. All authors , leading experts , experienced firsthand the council and helped decisively to apply in Spain . Five decades later, back on the event and analyze what was, what is and w...read more