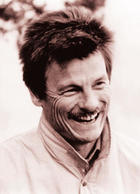 Andrei Tarkovsky was born in Zavraje (Russia) in 1932. The son of a famous poet, a child receives a good education, which will make you interested in painting, music and literature, but eventually studied at the All-Union Institute of Cinematography in Moscow, where in 1960 it presented as final year project the short film the steamroller and the violin.
A year later, he achieved international renown when it receives the Golden Lion at the Venice Film Festival with his film Ivan's Childhood. From that moment he will not abandon or controversy in his country or success out of it. Works such as Andrei Rublev (1966), Solaris (1972), Stalker (1979) or Sacrifice (1986) are the major milestones of his short films.
Andrei Tarkovsky died in Paris in 1986. At the end of his funeral in the Orthodox Church Street Daru, cellist Mstislav Rostropovich played Bach suite as meaning goodbye.