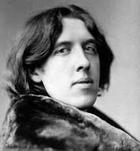 Oscar Fingal O'Flahertie Wills Wilde (Dublin, then part of the United Kingdom, October 16, 1854-Paris, France, November 30, 1900) was a writer, poet and playwright of Irish origin.
Wilde is considered one of the most important playwrights of late Victorian London; also was a celebrity of the time due to its large and sharp wit. Today, he is remembered for his epigrams, his plays and the tragedy of his imprisonment, followed by his early death.
As a spokesman for aestheticism, he made several literary activities; he published a book of poems, lectured in the United States and Canada on English Renaissance and then returned to London, where he worked prolifically as a journalist. Known for his biting wit, flamboyant dress and brilliant conversation, Wilde became one of the greatest personalities of his time.