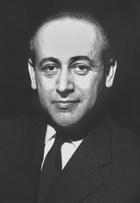 Born November 23, 1920 in Czernowitz, then Romanian city. His parents, Jewish and German speaking, belong to the bourgeoisie of the Bucovina, a region characterized by cultural and linguistic diversity, which until 1918 was part of the Austro-Hungarian Empire. In 1939, due to the start of the war, Celan abandoned his medical studies started in Tours (France) and enrolls in Romance philology at the University of Czernowitz. Presence of Bucovina occupation by Russian troops (1940) and German (1941). His parents were deported to a German concentration camp where they die tragically in 1942 Celan spend the remaining years of the war in labor camps of the Romanian army. In the early postwar years carries out reader and translator in Bucharest and Vienna. From 1948 he lived in Paris, where he studied German studies at the Sorbonne.
He received the Literature Prize of the city of Bremen in 1958 and the Georg Büchner Prize in 1960 In addition to his literary work, Paul Celan features numerous translations from French -traduce including Arthur Rimbaud and Paul Valery, Russian, English , Italian, Romanian, Portuguese and Hebrew. Dies by suicide, the April 20, 1970 in Paris.
Paul Celan have also been published in this Editorial Works (62009), Posthumous Poems (2003), both in translation of José Luis Reina Palazón, and Correspondence with Nelly Sachs (2007).