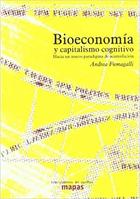 Year of publication:
2010
Encuadernacion:
Tapa Blanda
Bioeconomy:
Economic paradigm that has as an object of exchange, accumulation and valorization, the vital faculties of human beings, first of all language and the ability to generate knowledge.
Attempt of total subsumption of life in capital.
Valorization and capitalist exploitation of general intellect.
Biopower mirror concept; dissemination of control devices on social activities in order to transform them into productive economic relations.
This is an ambitious work. Try to determine what could be understood as a new accumulation paradigm. Through a deep historical and theoretical analysis, which brings together from the classics (Marx, Schumpeter and Keynes), to the critical economic currents (Saffra, the regulators, Galbraith, Chandler) and more heterodox (such as Italian operaism and French), Andrea Fumagalli proposes a new critique of the politic...read more