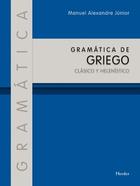 Year of publication:
2016
Encuadernacion:
Rústica con solapas
This new Grammar of Greek is called to become an essential instrument to initiate the students of institutes, universities, faculties of Theology and seminars in the knowledge of the Greek language. It is very useful both to begin with the study of classical Greek and the biblical one within the context of Hellenistic koine. It offers a vast body of examples, taken from both classical and biblical Greek, especially the New Testament.
This grammar of classical and Hellenistic Greek stands out for the breadth of conception, the clarity of exposure and the profound treatment of the themes.