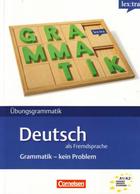 Year of publication:
2011
Practice grammar:
Aimed at learners who want to learn and practice grammar more systematically, this book focusses on grammar at the A1/A2 level. 48 modular units structured allow learners to concentrate on specific topics. The answer key can be found in the appendix.
Varied exercises range from 'easy' to 'difficult'. Explanations are on the left with the exercises on the right. Tests after each topic area offer additional practice. Partner pages make this grammar suitable for classroom practice in pairs.