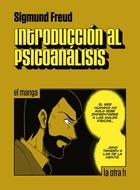 Year of publication:
2017
This manga explains in an entertaining and didactic way the theories of the father of psychoanalysis, Sigmund Freud, and helps us to understand the impact of his thought on psychology and contemporary mentality.
The discoveries of Sigmund Freud, controversial from its very origin, have exerted a fundamental influence in the world that surrounds us. Concepts such as psychoanalysis, repression, the unconscious or even the Oedipus complex have become part of the general culture of our time. However, under his apparent familiarity lies a network of relationships that exposes a suffocating conception of what it means to be human.
The outbreak of the Great War in 1914 made it clear that man had not evolved so much during the last few centuries. He was neither as civilized nor as rational, nor as much master of his emotions as he would have liked to imagine. Facing that unknown...read more