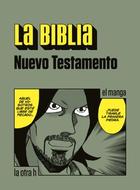 Year of publication:
2017
There are many versions of the Bible, erudite, simplified, children's, didactic ... there have also been movies, comic versions ... Now this manga version will transport us through the main Biblical episodes in a pleasant and attractive for everyone.
Few works have contributed to model Western thinking as much as the Bible. In contrast to the fragmentary accounts of its first part, the New Testament focuses on the works of Jesus of Nazareth and his disciples, as well as on the new covenant that is established between God and men through the Messiah. The life and death of Christ, along with his resurrection, have undoubtedly made him one of the most iconic and inspiring figures in Western culture.
I give you a new commandment: that you love one another; So that you love one another as I have loved you. By this all will know that you are my disciples.