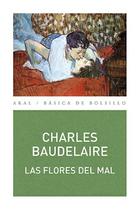 Year of publication:
2017
The unique verses of Las flores del mal, unrepeatable in their particular revelation of the imperfect, sometimes aberrant nature of men, represent the culmination of a century and a half of romanticism. In their time they meant an explosion of revulsive spirit and provoked a flood of criticism, confusion and disapproval; Although from the twentieth century they were recognized as precursors of the greatest contemporary poetry.
This volume includes a new and careful translation, made by one of the greatest Baudelaire scholars, and allows us to appreciate in all its richness the complexity of the rhythm and the images of the poet, facilitating the possibility of accessing the true original text in Spanish, to often betrayed in previous versions.