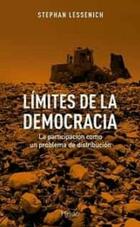 Year of publication:
2022
Binding:
Rustic with flaps
Stephan Lessenich ofrece perspectivas para una democracia solidaria, inclusiva y sostenible. Esta obra supone una continuación de lo planteado por el autor en La sociedad de la externalización.
La democracia es un concepto de alto valor reconocido universalmente, tal vez uno de los más importantes de la modernidad occidental. Sin embargo, la democracia realmente existente es también un sistema de demarcación, exclusión social y delimitación ecológica. Siempre ha dejado algunos intereses individuales fuera de su alcance. Así, a la vez que exige mayor participación en el proceso de la toma de decisiones, excluye a colectivos enteros que luego reclaman más participación.
Esta «dialéctica de la democracia» causa conflictos constantes e inherentes a ella. De ahí que sea necesario hacer participar al demos de forma equitativa no solo en el proceso político, sino también en los...read more