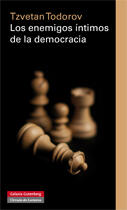 Year of publication:
2012
The new book by Tzvetan Todorov reveals the most involved with this Todorov, in line with the fear of the barbarians.
Intimate enemies of democracy denounces the dangers facing Western democracies are not so much external as wanted us to believe invoking Islamist terrorism, religious extremism or dictatorial regimes, but internal. Todorov argues that nobody puts as much in danger democracy as three growing trends in the Western world, starting with the United States: the messianism (which led to the invasion of Iraq and other attempts to forcibly impose democracy in the world) the ultra-liberalism (the rule of economics over politics, the power of the media, the dismantling of the welfare state) and populism and xenophobia (fear of foreigners, increasing exclusive nationalism).
So, the enemy is ourselves. Todorov resist calls and suggests the need for a "European Spring"...read more