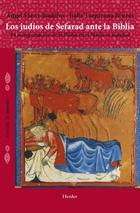 Year of publication:
2016
Binding:
Rústica con solapas
How did the Jews understand the Bible? What is the difference in the way between a traditional rabbi interpret a grammarian, a philosopher or a Kabbalist? To what extent Jewish exegesis contributes to better understand the meaning of the biblical text?
The Bible is the most significant contribution of the Jewish people-the people of the Bible to Western culture. Their study has always occupied a special place in the intellectual activity of the Jews, who developed, since ancient times, a complex system of rules to help unravel the deep meaning of the sacred texts. The Jews of al-Andalus, from the tenth century, a special deepening should be on how to study the Bible, opening new avenues for interpretation.
This book is especially dedicated to offering a panoramic view, supported by numerous texts translated for the first time from Hebrew, about the history of the Jewish ...read more