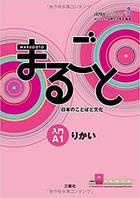 Year of publication:
2015
Binding:
Rústica con camisa
Japanese course MARUGOTO, taught by the Japan Foundation in Mexico. The course covers both the language and culture of Japan, provides examples of communication for real situations and allows you to experience the lifestyle and culture behind this communication. The course incorporates learning processes based on the results of a variety of research into second language learning. The practice of grammar is designed to be learned within meaningful contexts of real communication.
MARUGOTO is designed so that each person can easily study at his own pace, even for those who only have time to study once a week.
All audio and interactive support material can be downloaded free of charge from the official MARUGOTO and MARUGOTO Plus page, which also offers exercises and tips for learning the different Japanese alphabets (hiragana, katakana and kanji) as well as the interactive d...read more