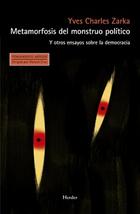 Year of publication:
2020
Encuadernacion:
Rústica con solapas
A deep reflection on the unique political transformations in society and how they affect the sense of democracy.
The present work is articulated around two perspectives. The first tries to highlight the transformations that affect politics and can explain the drifts of current democracy. For this, the author uses the figure of the monster to understand the metamorphosis of the relationship between the norm and its transgression, the application of new domain devices and even the hegemony of purely instrumental values.
The second perspective aims to go beyond the facts to question ourselves about our ability to reflect and change the course of things in the political arena. It is about the reconsideration of democratic legitimacy, the distinction between the different forms of consultation of the peoples, the elucidation of collective identification procedures and the ref...read more