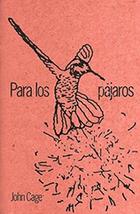 Since today is Sunday, day of ignorance,
I have no way to improve my spirit.
I prefer to go out in the rain to soak.
-JC
Alias presents For the Birds, a work that brings together the talks between John Cage and Daniel Charles in the early seventies. In these pages originally -traídas the Monte Avila Editores Spanish by also lie the answers to thirty Sixty three questions published for the first time in 1968, during the days that the Revue d'esthétiques devoted to the named "new music" .