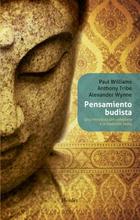 Year of publication:
2014
Binding:
Rústica con solapas
This work can become familiar with the basic ideas of philosophical and religious thought of Buddhism. With a clear and engaging style that makes comprehensible abstract and complex ideas, introduces the reader to the core concepts of classical doctrine of India, since the time of Buddha to the latest scholarly perspectives and controversies. Entirely revised in the light of new knowledge, particularly on Mahayana Buddhism and Tantric Buddhism, includes a detailed bibliography, further reading, study questions, a pronunciation guide and a comprehensive glossary of terms.
Buddhist thought is a reference text for both students of this discipline as history of religion, theology and philosophy, among others. Also, its informative style makes it an excellent introduction for the general reader.