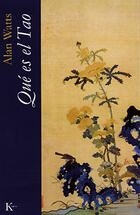 Year of publication:
2010
Alan Watts has been the main introducer of Eastern philosophies in the West. In this work he offers a brilliant and entertaining synthesis of Taoism, as it appears in the teachings of his great classics: the Tao te king, the I-Ching, the Art of War and the Zhuang Zi.
Through a vivid exposition of the essential ideas and concepts of Taoist thought, Watts invites us to live the Tao as a personal practice of liberation and explains our role as individuals endowed with free will in a world whose patterns are continually changing. Thus, What is Tao shows the scope that this ancient eastern wisdom can have in our busy lives today.